Información clave
Liderazgo sostenido
Ambiente emprendedor
Talento sofisticado
Hub latinoamericano
Chile: The Place To Build Your Future
Sectoral information
Industry figures
Investment opportunities
DESCARGA
CONTACT US
Let's make your next project happen!
CONTACT


Alicia Zhu




Investment Promotion Executive




aliciazhu@investchile.gob.cl




(56-2) 2663 920

CONTACT


Beatriz Herrera




International Network Coordinator




bherrera@investchile.gob.cl




(56-2) 2663 920

CONTACT


Vicente Pinto




Investment Commissioner Japan – Asia




vpinto@investchile.gob.cl




(56-2) 2663 920
At InvestChile, the Chilean Agency for the Promotion of Foreign Investment, we are committed to promoting Chile in the global markets as an attractive destination to invest. Our mission is to give support to the needs of foreign investors and companies that would greatly benefit from the business opportunities that Chile offers.
We do this by providing information on specific industries, trade data, regulatory and labour processes. All of this in line with international standards and national economic development policies.
As part of our work, we are dedicated to promote, coordinate and implement activities to encourage the growth of foreign direct investment in Chile from all of North America and Europe. We invite you to consider Chile as your trusted partner as one of the leading business platforms of Latin America. Be part of our mission!
More than 700 yearly business orientation!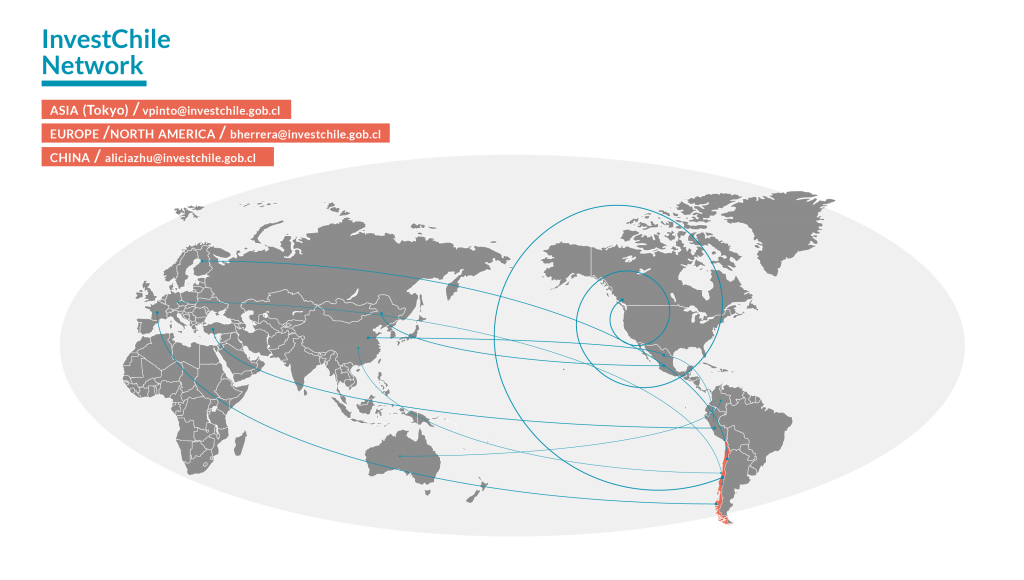 …
InvestChile speaks your language!  The brochure 'Chile, The place to build your future, as well as other information is also available in Mandarin, Spanish, Portuguese, Japanese & German.  
This site is registered on
wpml.org
as a development site.